Troutfest is a vast collection of fly tiers who demonstrate in 4-hour shifts within the big tent. Some are world-famous. Some are well-known in Central Texas. You will find tiers that tie traditional trout flies, tiny midges, bass bugs, redfish flies, striper flies, nymphs, streamers, the list goes on. This is an opportunity for you that is worth the travel time to get here not counting all the other activities and attractions at Troutfest.
You may sit, watch and ask questions. There is no charge, the fly-tying show like almost everything at this Exposition is free. There will be more going on than just watching these excellent fly tiers. They can tell you how to fish the patterns.
Some of them are guides, professionals who will show you what works for them on the Guadalupe. You will leave Troutfest with more knowledge about this sport than you can get anywhere else in two days
So if you are looking for one really compelling reason to attend Troutfest, the fly tiers are it. And it's free!
Below is the ever-growing list of fly tiers who have been enlisted to tie so far.
Casey Smartt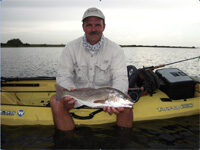 Casey was born and raised in Austin, TX.  He started tying flies at the age of 12 and got his first fly rod a year later.  Casey spent his youth chasing fish on the Hill Country streams and Highland Lakes around Austin and eventually graduated to saltwater fly fishing on the Texas Coast.
Casey holds a B.S. in Aquatic Biology from Southwest Texas State University and has had careers as a hunting/fishing guide and an environmental compliance specialist for the steel/construction industry.
Casey was the Fly Fishing Editor for Texas Saltwater Fishing Magazine from 2003 to 2012.  He lives in New Braunfels, TX with his wife Pam and two sons Rhodes and Foster.  When he is not working or spending time with his family, Casey splits his time between the deep clear waters of Canyon Lake and the shallow flats of Aransas Pass.
Joe Filer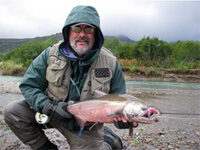 Joe is an active member of the fly fishing community in and around San Antonio, Texas. He is a Past President of the Alamo FlyFishers and currently serves the Guadalupe River Trout Unlimited Chapter as Secretary of the chapter.
Joe has fished from Alaska to Belize; Mexico to Scotland; chasing trout, salmon, bonefish, tarpon, white bass, Rio Grande perch, peacock bass, and anything else that will eat one of his flies in fresh and saltwater.
His favorite flies to tie are soft hackles and wooly buggers to fool rainbows in the Guadalupe River or pink articulated leeches that silver salmon just cannot ignore. You might even catch him tying a classic salmon fly or a Carrie Stevens streamer every now and then.
Mick McCorkle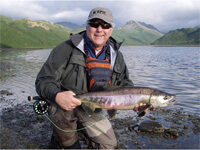 Mick is a retired psychologist (so he may not help you catch fish, but he can help you deal with your feelings if you don't catch any) who lives near Dallas. Mick has fly fished from the canals of south Florida to the Pacific Northwest to Alaska and the Arctic and from Hawaii to the Texas Gulf Coast to Lake Texoma to the upper Midwest and the Rocky Mountains.
Consequently, Mick loves to tie all kinds of flies, for trout, salmon, warm water, and saltwater. He's been tying flies for nearly 20 years and regularly donates boxes of flies for raffles and charity auctions.
Mick is also active in coldwater conservation, having served as the president of the Lee Wulff Chapter of TU and of GTRU and is now Vice Chair of TU's  National Board of Trustees and Chair of the TU National Leadership Council.
Mick is also a Trustee and former Executive Director of Casting for Recovery and a past chair of the Texas Parks and Wildlife's Freshwater Fisheries Advisory Committee.
Mike Morphew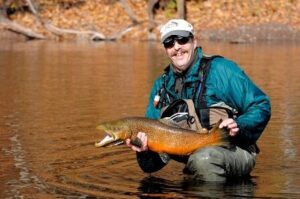 Mike, originally from England, has been Tenkara fly fishing for trout, salmon, and saltwater fish for over 30 years in different parts of the world.
Fishing the wild rivers of England, Europe, and the USA has given Mike great insight into the different methods of fishing required to enjoy the sport.
His passion for Tenkara rods and tying flies started back in 1968 when Mike caught his first trout on a fly he tied with materials found around the house! Mike's specialty is tying ultra-realistic flies and bugs, many of which are framed for presentation.
A member of Trout Unlimited and IFF, Mike spends a lot of his time promoting this wonderful sport. In 2004 while living on the Island of Tortola in The British Virgin Islands, Mike was asked to create a salmon fly display for Her Royal Highness Princess Anne on one of her State visits which he presented to her in person.
It was while living on this tropical Island that Mike learned the art of fly fishing for Bonefish and Tarpon. Mike will often recall his greatest catch of a 22lb brown trout while fishing in upstate New York hooked on a size 12 fly and a 6lb tippet.
He is also known locally for teaching fly fishing and tying at The Hyatt Regency Resort to individuals and corporate groups. Mike currently resides in the small town of Smithville, Texas with his wonderful Texan wife Vicki.
Todd Fleming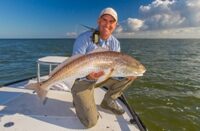 Todd Fleming is a native Texan who started perch-jerking at a very young age with a cane pole and a carton of worms. After graduating from Texas A&M in 1982, and starting a family and a career in construction project management in San Antonio, he found time to go fishing again.
After a vacation trip to Colorado that included some fly fishing in the summer of 2000, Todd joined the Alamo Fly Fishers, where he has been an active member, past president, and Board Member.
Upon learning that a fly rod is an effective tool in saltwater, flats fishing, and sight casting at the coast became his obsession. Todd practiced fly fishing for redfish on the flats from a kayak for over ten years and now enjoys teaching others to spot fish from the bow of his poling skiff.
Todd fishes mostly in Texas from the Hill Country to the coast, and has made sampling trips to Louisiana, Florida, New Mexico, Colorado, the Pacific Northwest, and Alaska. Todd is blessed with an understanding wife of 32 years and a fly-fishing addiction for which there is thankfully no cure!
Zachary Evans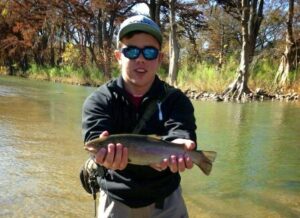 Zack Evans is a New Braunfels native and a senior at New Braunfels High School. Zack has a passion for fishing that started when he was very young.
When not in school, you can expect to find him fishing on one of the beautiful Hill Country rivers or lakes. Over the last few years, Zack has developed an interest in fly fishing and he now finds himself taking out the fly rod more and more.
For his eighteenth birthday, Zack's parents got him a membership to GRTU and he has fallen in love with trout fishing. He recently found out how satisfying it is to catch a fish on a fly of his own creation.
Zack doesn't claim to be a master fly fisherman, but with his love for the sport, he hopes that one day he may become one.
Matt Bennett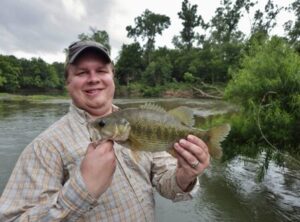 Matt isn't a Texas native but got here as quickly as he could. He's originally from southwest Louisiana and grew up bass fishing on Toledo Bend Reservoir and trout fishing in southwest Colorado.
After graduating from Baylor University in Waco, Matt moved to the Austin area, where he currently resides with his wife Amanda.
He's the Shop Manager at Living Waters Fly Fishing in Round Rock and the Vice President of the Austin Fly Fishers. He also runs a small fly fishing blog called Fly Geek.
He's an avid fly tier and an Umpqua Feather Merchants Signature Fly Designer. You'll be able to find his signature pattern, Bennett's Lunch Money, available in fly shops all around the country very soon.
While Matt enjoys trout fishing, the bass is his species of choice to target with a fly rod, especially our endemic Guadalupe Bass. Matt isn't picky, however, and enjoys chasing all kinds of fish with a fly rod.
Jim Gray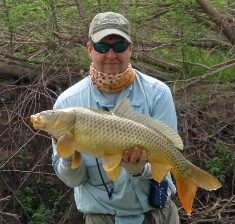 Jim has been fly fishing and tying flies for over 30 years. He first picked up a fly rod in South Florida and honed his skills fishing the Everglades and the blue waters of the Atlantic.
His passion for fly fishing has taken him all over the world, chasing trout, grayling, and pike in Europe, mahseer in India, bonefish in Mexico, and carp in Japan.
For the past 15 years, Jim has made Austin his home and has been an active member of the fly fishing community. Jim is currently the President of the Austin Fly Fishers, and frequently gives presentations on fly fishing and fly tying to fly shops and clubs in Texas, Louisiana, and Florida.
Jim has developed several flies specifically for the Hill Country. He co-developed the Llanolope fly, which has become a mainstay for many anglers fishing the Llano River. He also developed Jim's Damsel, which is a popular pattern for carp on our local rivers.
Jim is best known as a dedicated carp angler and spends much of his time chasing "golden bones" on the Llano, Colorado, and San Gabriel Rivers.
Jeff Hoelter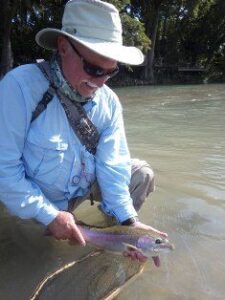 Jeff has been fishing most of his life and picked up fly fishing nearly 20 years ago when he moved to Texas from the Midwest.
He has participated in many fly-tying demos and presentations including the TPWD Expo, Shallow Water Expo, Destination Texas Expo, and GRTU Troutfest.
He is a member of the San Gabriel Fly Fishers and is an officer of the Austin Fly Fishers. Jeff ties a few flies commercially and can occasionally be found behind the counter at Living Waters Fly Shop.
He's thrown flies in Alaska, Colorado, New Mexico, North Carolina, and Florida but spends most of his time fishing and tying for the Texas rivers.